Ahmed Haykel, Head of the Department for prevention of religious Extremism at the Democracy Center in Baden-Württemberg, Germany, and one of the young peacemakers, gave a lecture at Biberach University entitled Prejudices as a way of life, during which he addressed the causes and mechanisms of prejudice and racism, in the presence of a group of university students and faculty members, as part of the campaign activities "Weeks Against Racism".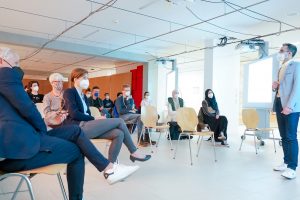 Haykel made recommendations at the end of the lecture that we should talk to the "other" rather than talk about the "other".
This came as part of the efforts of the Peacemakers Youth Forum team, each in their place and function, to achieve the forum's message of making positive progress towards achieving peace and tolerance for all through the innovative and racing movement of the world's youth.